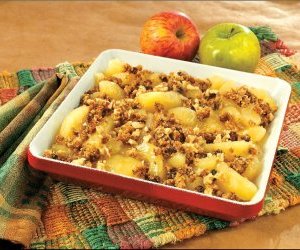 Easy Apple Crisp
What makes it easy? Apple pie filling and crumbled oatmeal raisin cookies combine to make a delicious apple crisp that is cooked in the microwave and ready to serve in less than 10 minutes.
Ingredients
1

can

apple pie filling 21 ounces

2

Pepperidge Farm® Soft Baked Santa

1/2

cup

chopped walnuts optional

2

tbsp

butter melted

3

cups

vanilla ice cream or frozen yogurt
Instructions
Spoon the pie filling into a 1-quart microwavable casserole.

Stir the crumbled cookies, walnuts, if desired, and butter in a small bowl. Sprinkle the cookie mixture over the pie filling.

Microwave on HIGH for 3 minutes or until the mixture is hot. Serve with the ice cream, if desired.
Notes
You can substitute Pepperidge Farm® Soft Baked Chocolate Chunk Milk Chocolate Caramel Cookies for the Oatmeal Raisin.
You can make Fresh Apple Crisp. Omit the apple pie filling. Prepare the cookie mixture as directed above. Stir 5 cups sliced apples (about 4 medium) and 1/4 cup sugar in a 9-inch microwavable pie plate. Sprinkle with the cookie mixture. Cover and microwave on HIGH for 7 minutes or until the apples are tender. Uncover the pie plate. Let stand for 5 minutes.
Try the Easy Apple Crisp recipe on Grains Food Foundation from Pepperidge Farm using apple pie filling and oatmeal raisin cookies.